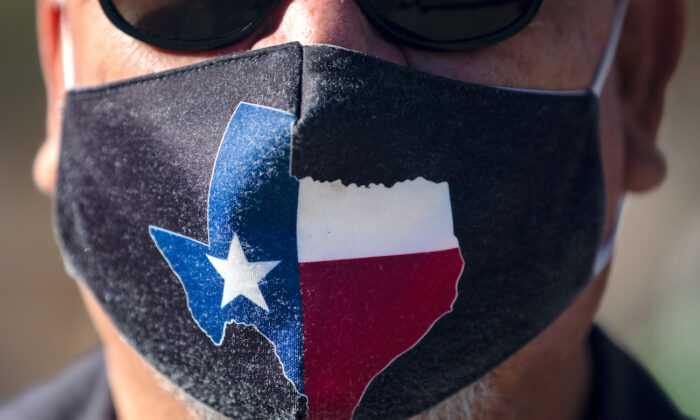 Texas Sues Biden Administration Over Federal Mask Mandate on Public Transport
By Mimi Nguyen Ly
Texas on Wednesday filed a lawsuit against the Biden administration over its federal mask mandate on public transport, including on airplanes and airports.
The suit is filed by Texas Attorney General Ken Paxton, the Texas Public Policy Foundation (TPPF), and U.S. Rep. Beth Van Duyne (R-Texas). It names as defendants CDC Director Rochelle Walensky, CDC chief of staff Sherri Berger, Department of Health and Human Services Secretary Xavier Becerra, as well as the federal government as a whole.
President Joe Biden signed an executive order on Jan. 20, 2021—his first day in office—to order federal agencies to mandate masks on planes, trains, and in airports. The mandate was later issued by Berger on Jan. 29, 2021, requiring people to wear masks on "transportation conveyances or on the premises of transportation hubs," and the mandate became effective on Feb. 3, 2021.
Per the CDC, transportation conveyances refer to "airplanes, ships, ferries, trains, subways, buses, taxis, [and] ride-shares" that travel "into, within, or out of the United States." The CDC later announced in June 2021 that it will not be enforcing masks in outdoor areas of public transport.
Failing to comply with the mask mandate may bring criminal penalties, although the Centers for Disease Control and Prevention (CDC) said it "does not intend to rely primarily on these criminal penalties but instead strongly encourages and anticipates widespread voluntary compliance."
The mandate from the CDC did not get congressional authorization, nor did it undergo an administrative process of notice or comment, which is normally required for such regulations, plaintiffs argued in their complaint (pdf).
Plaintiffs also argued that the CDC has no authority to "make or enforce regulations that amount to a blanket preventative measure against people that may or may not carry infectious disease."
They also argued that the mask mandate is unconstitutional as it defies an executive order that Texas Gov. Greg Abbott signed, which prohibits mask mandates in the state.
They are requesting that the court declare the administration's mask mandate unlawful and bar it from taking effect, via a preliminary and permanent injunction.
"Sued the CDC today. Masks on planes are unnecessary. Thanks to @TPPF for helping make this happen so we can continue the fight to end mandates and bureaucratic control of American lives!" Van Duyne said in a statement on Twitter.
"Just filed my 22nd suit against Biden, this time regarding anti-science, virtue-signaling masks on airlines & airports. Masks on planes are not only silly, but illegal too. Proud to join @TPPF, @robhenneke, @Bethvanduyne in restraining Dems' lawless gov't. End the mask mandates!" Paxton wrote on Twitter.
In a separate statement issued via his office, Paxton said that Biden "cannot continue governing through executive edicts."
Robert Henneke, the executive director and general counsel of TPPF, wrote on Twitter, "Thank you @Bethvanduyne for fighting this unlawful #BidenAdministration airline mask mandate. And thank you for representing the millions of Americans fed up by this. @TPPF is honored to work with you in this lawsuit."
The Epoch Times has reached out to the CDC, HHS, and the White House for comment.
The Texas suit comes about a month after the U.S. Supreme Court rejected a separate effort to block the Biden administration's mask mandate for airplanes.
The lawsuit also comes on the same day as CDC Director Rochelle Walensky announcement that the agency is reconsidering new COVID-19 guidance including on face masks and when to wear them.
"We are assessing the most important factors based on where we are in the pandemic and will soon put guidance in place that is relevant and encourages prevention measures when they are most needed to protect public health and our hospitals," she said at a briefing.
"We want to give people a break from things like mask wearing when these metrics are better and then have the ability to reach for them again should things worsen."
The CDC expects to issue the revised guidelines in late February or March.
Please follow and like us: