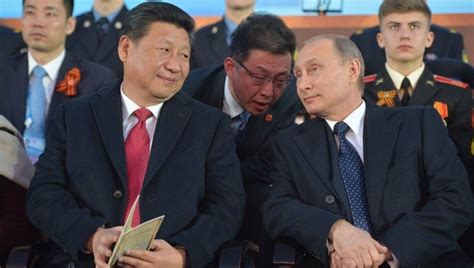 China's support for Russia turns Ukraine into battleground for new world order
by Joel Gehrke, Foreign Affairs Reporter
China has given "tacit approval" for Russian President Vladimir Putin's latest invasion of Ukraine, in the judgment of U.S. officials, as part of a joint effort to undermine the institutions that American and allied leaders established to minimize conflict in the decades following World War II.
"Russia and the PRC also want a world order," State Department spokesman Ned Price said Wednesday. "But this is an order that is and would be profoundly illiberal. … It is an order that is, in many ways, destructive rather than additive."
China and Russia have made a show of their alignment over the last several years, culminating in the release this month of a communique that outlined a wide range of plans for economic and diplomatic cooperation — including the Kremlin's support for Beijing's claim to sovereignty over the island democracy of Taiwan and Chinese General Secretary Xi Jinping's support for restrictions on NATO activities in Europe. Price declined to draw an explicit inference from that statement that China supports Russia in the brewing war, though his Defense Department counterpart didn't shy from voicing an ominous conclusion.
"The Feb. 4 statement that Xi and Putin put out was — certainly, we took [it] as tacit approval for what Mr. Putin is doing," Pentagon spokesman John Kirby told reporters.
Chinese officials have sent mixed signals about the crisis in recent days. Chinese Foreign Minister Wang Yi mentioned Ukraine by name last week when he affirmed that "the sovereignty, independence and territorial integrity of all countries should be respected and safeguarded" from assault.
"And that applies equally to Ukraine," he told the Munich Security Conference. "If anyone questions China's attitude on this matter, it is ill-intended sensationalization and a distortion of China's position."
The foreign minister also said Saturday that "Russia's reasonable security concerns should be respected and taken seriously," in an apparent reference to Putin's demand that Ukraine be barred from joining NATO. Yet Putin on Tuesday announced that Russia seeks not merely Ukrainian neutrality but also the "demilitarization of the modern Ukraine to a certain degree."
President Joe Biden's administration has hoped that the threat of economic sanctions would dissuade Putin from launching a major offensive, but U.S. and European allies began imposing those sanctions Tuesday as Putin claimed the right to partition the Donbas region of eastern Ukraine on behalf of so-called separatists who have masked the Russian presence over the last eight years. China responded by blaming the United States for the crisis.
"On the Ukraine issue, lately, the U.S. has been sending weapons to Ukraine, heightening tensions, creating panic, and even hyping up the possibility of warfare," Chinese Foreign Ministry spokeswoman Hua Chunying said. "A key question here is what role the U.S., the culprit of current tensions surrounding Ukraine, has played. If someone keeps pouring oil on the flame while accusing others of not doing their best to put out the fire, such kind of behavior is clearly irresponsible and immoral."
Western officials hoped that China, notwithstanding Xi's much-touted partnership with Putin, might feel an incentive to take a more cooperative line with respect to the Ukraine crisis. Chinese Communists have anchored their objections to de facto diplomatic ties between Taiwanese officials and other governments in their claim to sovereignty over the island, which has been a disputed matter between Taipei and the mainland Chinese regime since the CCP victory in the Chinese Civil War in 1949.
"We wonder, can it really be the Chinese policy now to support separatist movements over the sovereignty of nation-states?" said Kirby. "That's an interesting twist, isn't it?"
The Chinese Foreign Ministry's statement seemed to spur the Biden administration to reflect aloud on the Russian invasion of Ukraine as not only a security catastrophe within Europe but the literal battleground within a widening watershed in global politics.
"We continue to see the forces of autocracy, the forces of authoritarianism, the forces of illiberalism continue to work together and attempt to combine forces," Price told reporters. "But the other point: Even as they try to do that, we are confident."
Biden's team has tried to counter that dynamic with what the president has billed as an "alliance of democracies" spanning Europe and the Indo-Pacific.
"If you look at it quantitatively, we have 50%-plus of global GDP," Price continued. "We have a large share of the world's population. China and Russia, in terms of their GDP, are, what, 20% of global GDP? We have innovation. We have entrepreneurship. We have a shared set of values that we really think are a core instrument of national power."
Those metrics have a bearing on any long-term geopolitical competition, but Price held out some rhetorical hope that China might still try to curb Putin's aggression against Ukraine.
Read More From ForAFreeAmerica
"Sovereignty should be an element that the PRC understands quite well," Price said. "So you'll have to ask the PRC how they marry that long-standing position with anything less than an effort to use the considerable influence and sway they have with the Russian Federation to urge Vladimir Putin to back down, to de-escalate. [As for] whether they are doing that, you'll have to ask them."
Please follow and like us: