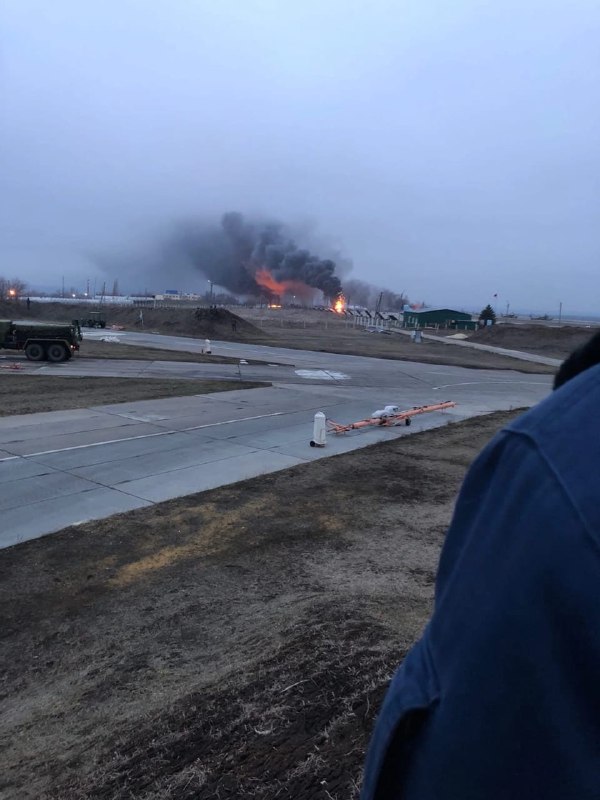 Russian Military Base Blown Up as Ukraine Fights Back
Jack Dutton
Ukrainian missiles appear to have hit a Russian military base in Millerovo, a Russian town 16 kilometers from the border of the two countries, according to unconfirmed social media posts.
Russian President Vladimir Putin on Thursday declared war on Ukraine, a move that has drawn scathing criticism from most military powers except for China.
At least 137 Ukrainians have died, including civilians, and hundreds more have been injured as Russia continues its invasion. At least 800 Russian soldiers have also reportedly lost their lives.
Social media posts show photos and video footage of the Millerovo air base, which has been set alight after it had been fired at.
Kyiv Independent journalist Illia Ponomarenko tweeted on Friday that "a number of enemy aircraft have been destroyed."
Millerovo is a town about 190 kilometers from Luhansk, a Ukrainian territory that Russia sees as its own. Both Luhansk and Donetsk are Russian-rebel held territories that comprise a wider region called Donbas that borders Russia. Rebel groups have held two those territories for nearly a decade.
Agence France-Presse reported on Friday that the Ukrainian army confirmed it was fighting Russian forces outside the capital Kyiv. Anton Herashchenko, an adviser to Ukraine's interior minister, said he expected a Russian tank in the capital later on Friday, which could become the toughest day of the war, which is only in its second day.
Ukrainian President Volodymyr Zelenskyy declared martial law on Thursday and announced the country had cut diplomatic ties with Russia following the invasion.
In a televised appeal to Russian people, Zelenskyy said: "We know for sure that we don't want war. Not cold, not hot, not hybrid. But if we are threatened, if someone tries to take away our country, our freedom, our lives. The lives of our children. We are going to defend ourselves. Not attack—defend. By attacking you are going to see our faces. Not backs—our faces.
"And the truth is, that this needs to stop before it's too late. And if the authorities of Russia don't want to talk to us, for the sake of peace, maybe they'll talk to you [Russian people].
"Do the people of Russia want war? I would like to be able to answer this. But the answer depends only on you: the citizens of the Russian Federation."
He said that he and his family were the top enemy for Russian forces, who are seeking to kill him.
President Joe Biden on Thursday issued a new round of sanctions on Russia to limit international trade with Moscow and target Putin's inner circle. The sanctions hit four Russian banks that hold more than $1 trillion in assets, including Sberbank, Russia's largest bank. The European Union also plans to freeze Russian assets in the bloc and stop Russian banks accessing its financial markets.
The UN refugee agency estimated on Thursday that 100,000 Ukrainians had fled their homes and that several thousand have crossed into neighboring countries, mainly Moldova and Romania.
In 2014, violent protests in Eastern Ukraine led to the ousting of pro-West leader Viktor Yushchenko. Russia then illegally annexed the Ukrainian region of Crimea, which led to international condemnation and sanctions imposed on Russia by the West.
Read More From ForAFreeAmerica
Please follow and like us: