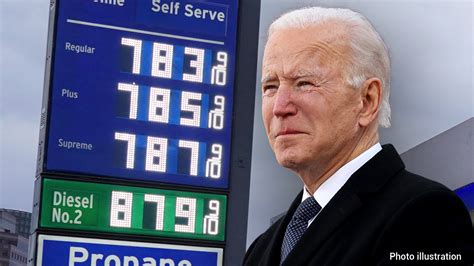 House Republicans do have solutions to inflation and gas costs
By Matthew Wilson 
House Republicans gathered this week for an off-site hearing denouncing the Biden administration's economic and energy agenda, blaming the president for record-high inflation and gas prices while proposing solutions that largely focused on reining in government spending and expanding domestic energy manufacturing.

Led by Rep. Andy Biggs (R-AZ), members of Congress heard from a panel of witnesses including former Trump administration Energy Secretary Rick Perry and Club for Growth co-founder Stephen Moore at an event held Tuesday at the Heritage Foundation.
For an hour and a half, Republicans considered proposals ranging from dramatically cutting taxes and government spending, enacting work requirements for social welfare programs, and abolishing "renewable energy mandates" that restrict the production of oil and other fossil fuels.
Although some policy disagreements among them were evident, the event's attendees were unified in their harsh criticisms of President Joe Biden, fixing the blame squarely on his administration for the country's economic woes.
"With gasoline at $5 per gallon and inflation at nearly 9% year over year, we need to hold the Biden administration accountable," Biggs argued. "With Democrats in charge of the House, Senate, and the White House, they are the ones who produced this problem."
At the conclusion of the event, several congressmen sat down with the Washington Examiner for interviews in which they pushed their own legislative proposals that they maintained would lift the financial burdens weighing on American families.
During the hearing, Moore called on Congress to fight inflation by enacting an "immediate 10% to 15% across-the-board reduction in government spending" that applies to "every agency of government," an idea supported by lawmakers in attendance such as Rep. Bob Good (R-VA).
However, Rep. Andy Harris (R-MD) disagreed, telling the Washington Examiner that the sweeping spending cuts Moore proposed would be like "doing surgery with a pretty blunt weapon." Instead, Harris suggested that Congress ought to take a more measured approach to new spending, "looking at those parts of the federal budget that are too bloated" and cutting back spending on a case-by-case basis.
Additionally, Harris said that it is "about time" that Congress place work requirements on welfare programs such as food stamps and public housing, a stance echoed by Rep. Ralph Norman (R-SC), who similarly attributed high inflation rates to the federal government "paying workers not to work" in an interview with the Washington Examiner.
Limiting the Federal Reserve's mandate is a significant step that Congress could take to curb inflation, Rep. Byron Donalds (R-FL) told the Washington Examiner. Along with Rep. French Hill (R-AR), Donalds has introduced a bill to do away with the Federal Reserve's "two mandate" structure to ensure that it focuses on price stability and not on immediate unemployment concerns. The Florida congressman said that the central bank's dual mandates to achieve both stable prices and maximum levels of employment "work in contradiction to one another" and severely limit its ability to combat inflation adequately.
Rep. Louie Gohmert (R-TX) argued that "the biggest driver of inflation is fuel costs" and that the Biden administration needed to roll back its "devastating" restrictions on domestic oil production in comments to the Washington Examiner. Gohmert echoed Moore's claim during the hearing that a reversion to Trump-era fossil fuel regulations would allow for the production of "5 million barrels of oil a day," which the congressman contended would "bring down inflation" and "reduce the hurt that [Biden] is putting on working folks."
While Moore backed "more immigrant workers" as a means to shore up the economy, some lawmakers pushed back on that proposal. Gohmert told the Washington Examiner that he "[did not] see that as a help for inflation at all," and Norman maintained that Congress should "stop all immigration" until Congress can "get a handle" on immigration levels.
Please follow and like us: