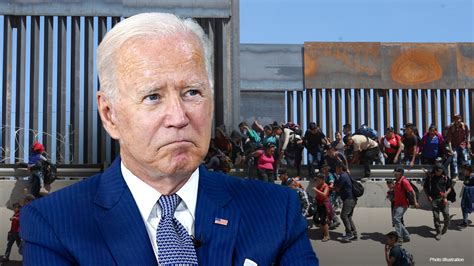 White House, Gaslights and Creates a Border Catastrophe Then Tells the American Taxpayer They Need More Cash as Migrant Limits Set to End
Story by Nancy Cook and Akayla Gardner
(Bloomberg) — The White House urged Congress to provide additional border funding as the administration braces for another potential migrant surge if pandemic-era restrictions at the center of a court battle are lifted.
At the same time, the Department of Homeland Security said it would comply with a Supreme Court order that keeps in place a provision allowing migrants to be swiftly sent back to Mexico.
White House Press Secretary Karine Jean-Pierre said the administration was bolstering resources on the southern US border and planning for a new influx of migrants, already at record numbers, but that lawmakers had to quickly act on President Joe Biden's request for additional aid.
"We need Congress to give us the funds we've requested to do this in a safe, orderly and humane way," Jean-Pierre said on Monday.
The Title 42 restrictions, which allow US officials to turn away asylum seekers and other migrants at the border, had been set to end on Wednesday. But after Jean-Pierre's comments, US Supreme Court Chief Justice John Roberts temporarily blocked the scheduled ending of the border rule, while the high court considers a bid from Republican state officials who want to keep Title 42 in place while litigation plays out.
Roberts asked the administration to respond to the request by Tuesday at 5 p.m. Washington time.
"As required by the Supreme Court's administrative stay order, the Title 42 public health order will remain in effect at this time and individuals who attempt to enter the United States unlawfully will continue to be expelled to Mexico," the Department of Homeland Security said in a statement on Monday night. "While this stage of the litigation proceeds, we will continue our preparations to manage the border in a safe, orderly, and humane way when the Title 42 public health order lifts."
Immigrant rights' advocates have criticized the rules as unfairly blocking access for asylum seekers, but supporters of the measure see it as an important tool to help deal with migrant crossings that are already at high levels.
US officials recorded more than 2 million migrant encounters at the US-Mexico border in fiscal 2021. Title 42 was used to expel migrants more than one million times that year.
The administration is seeking $3.5 billion from Congress. Senator Chris Murphy, a Connecticut Democrat, said Monday the White House would get "significantly" less in the year-end spending bill Congress will vote on this week.
Jean-Pierre earlier Monday said congressional Republicans, who have seized on the surge in migrant crossings to criticize Biden over his immigration policies, should work with Democrats to provide the Homeland Security the funds it needs.
"If they are serious, Republicans in Congress are serious about securing the border, then they should assist in making sure the men and women at the DHS have what they need to get this done," she said.
Texas Governor Greg Abbott, a Republican, has warned of "total chaos" on the border if Title 42 is lifted.
Asked about claims that a rise in migrant crossings could overwhelm US Customs and Border Protection, Jean-Pierre rejected what she called "misinformation" being spread by human smugglers.
"The fact is that the removal of Title 42 does not mean the border is open," she said.
Once the rule is lifted, "those who do not have a legal basis to remain, will be quickly removed, and so we will continue to fully enforce our immigration laws in a fair, orderly and humane manner," she said.
Please follow and like us: