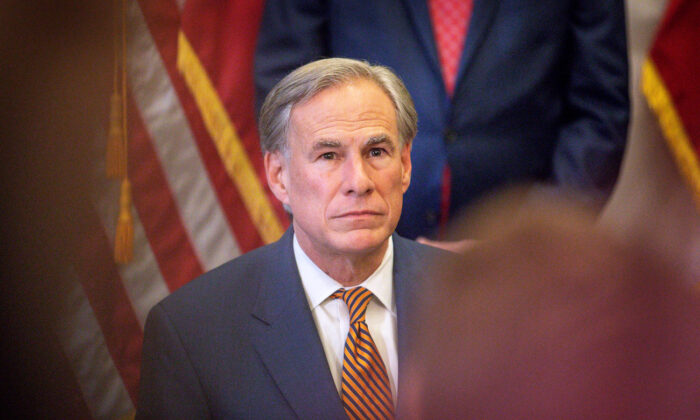 Greg Abbott tells Texas to ban DEI in hiring at public institutions following 'woke' reports
Story by Jeremiah Poff
Texas Gov. Greg Abbott's office informed state agencies and public universities Saturday that they cannot consider diversity, equity, and inclusion metrics when hiring employees.
In a letter addressed to Porter Wilson, the state's executive director for the employee retirement system, Abbott chief of staff Gardner Pate said that federal and state law prohibit discrimination in hiring practices and that such hiring discrimination could not be made legal simply by calling it "DEI."
"In recent years, however, the innocuous-sounding notion of Diversity, Equity, and Inclusion (DEI) has been manipulated to push policies that expressly favor some demographic groups to the detriment of others," Pate wrote. "Indeed, rather than increasing diversity in the workplace, these DEI initiatives are having the opposite effect and are being advanced in ways that proactively encourage discrimination in the workplace. Illegally adding DEI requirements as a screening tool in hiring practices or using DEI as a condition of employment leads to the exclusion and alienation of individuals from the workplace."
The warning from the governor's office comes as diversity, equity, and inclusion efforts in higher education have drawn increased scrutiny amid reports that colleges have gone too "woke." Last month Florida Gov. Ron DeSantis (R) outlined a new legislative proposal to abolish DEI departments in the state's universities. A recent report from a medical watchdog revealed that DEI programs are heavily enmeshed in Texas medical schools.
"When a state agency adjusts its employment practices based on factors other than merit, it is not following the law," Pate wrote. "Rebranding this employment discrimination as 'DEI' does not make the practice any less illegal. Further, when a state agency spends taxpayer dollars to fund offices, departments, or employee positions dedicated to promoting forbidden DEI initiatives, such actions are also inconsistent with the law."
In a statement to the Washington Examiner, Abbott spokeswoman Renae Eze said Pate's letter was a reminder to state agencies and universities that they "must follow federal and state law in their hiring practices."
"Both federal and state law make equity quotas illegal," Eze said. "Equity is not equality. Here in Texas, we give people a chance to advance based on talent and merit. Aspiring to Dr. Martin Luther King, Jr.'s dream, we should not be judged by the color of our skin, but by the content of our character."
Please follow and like us: