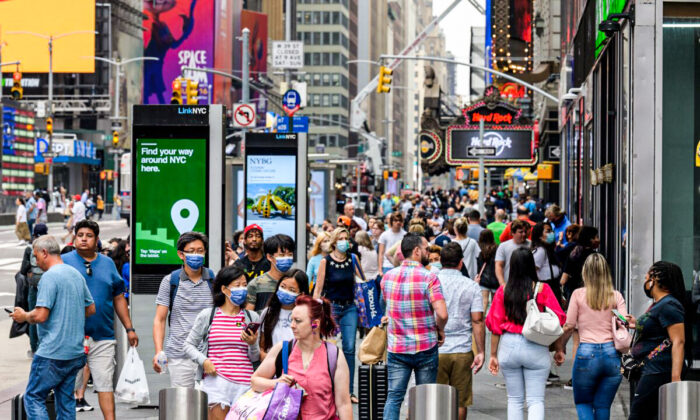 Inflation rose to 5.4% in January, according to key gauge watched by Fed
By Zachary Halaschak, Economics Reporter
Inflation unexpectedly rose to 5.4% annually in January, as measured by the gauge favored by the Federal Reserve.
The rise in the personal consumption expenditures price index reported Friday morning by the Bureau of Economic Analysis is another sign that inflationary pressures are not abating in the face of the Federal Reserve's campaign to slow price gains by hiking interest rates. Inflation is still running much hotter than the central bank's target and damaging household purchasing power.
The headline number is bad news for the economy and for President Joe Biden, who had been counting on a continuation of the recent trend of disinflation. January's new reading is nearly a half percentage point higher than the 5% PCE inflation that was registered in December.
Core PCE inflation, a measure of inflation that strips out energy and food prices and is generally less volatile, is clocking in at a 4.7% year-over-year rate. The Fed's target for inflation is 2%.
"Net, net, despite all the heavy-lifting on interest rates by Fed officials for almost a year, they are no closer to bringing inflation down to target, in fact, there is evidence inflation is spreading like wildfire," said Chris Rupkey, chief economist at FWDBONDS. "Heck, it isn't spreading, it is exploding. The risk now is whether the Fed shifts back into full attack mode."
The markets reacted immediately to Friday's pop in inflation. Futures of the Dow Jones Industrial Average fell by nearly 400 points while the Nasdaq was down by 1.75% following the news.
Friday's latest inflation report comes after two other inflation reports for January came in hotter than expected and appeared to show that inflation is proving sticky, despite the barrage of interest rate hikes conducted by the Fed over the past year.
Last week's latest producer price index report showed that from December to January, wholesale prices rose 0.7% — the largest one-month inflation since June of last year and an increase that would translate to an annual rate of nearly 9%. Annual inflation fell slightly less than expected to 6%.
Additionally, the 6.4% registered by the consumer price index in January was only down a tenth of a percentage point from December's annual rate of inflation, further raising fears that the Fed's aggressive crusade against rising prices isn't working as quickly as it should.
The stickier inflation readings mean the Fed will likely be keeping rates higher for longer — something that doesn't bode well for the prospect of the economy avoiding a recession.
Politically, the hotter reports are a setback for Biden. His approval ratings have languished because of high inflation, and Republicans have taken every opportunity they have to blast him for the state of the economy. House Ways and Means Committee Chairman Jason Smith (R-MO) attacked Biden over inflation once again after the latest PCE report.
"America is firmly stuck in an ongoing inflation crisis caused by Washington Democrats' reckless spending. Reports show families, farmers, and small businesses continue to suffer as a result of President Biden's radical partisan agenda, yet he insists he will not abandon it," he said.
Following Friday's PCE report, President Barack Obama's Council of Economic Advisers Chairman Jason Furman reacted by saying that the economy "is very overheated." He also endorsed the Fed hiking interest rates by more than the typical quarter of a percentage point given just how persistent inflation is proving.
After the Federal Open Market Committee hiked rates by a quarter of a percentage point at its last meeting earlier this month, some thought the Fed would even forgo a rate hike at its next meeting in March. Those hopes have since been dashed.
Investors are now pegging the odds of a quarter percentage point hike at about 67%, according to CME Group's FedWatch tool, which calculates the probability using futures contract prices for rates in the short-term market targeted by the Fed. More than 32%, a number that has been on the rise, now think that the Fed will hike rates by a half percentage point given the recent reports.
Please follow and like us: