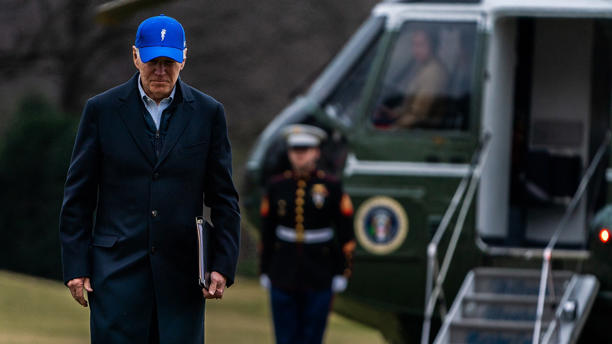 Ted Cruz says Biden 'certainly' isn't running the White House after new budget proposal shows priorities
Story by Lawrence Richard
President Joe Biden is no longer in charge of the White House, according to one Republican lawmaker who took to social media to criticize the Biden administration's newly proposed $6.8 trillion budget.
Sen. Ted Cruz, R-Texas, said the Biden administration's budget for the 2024 fiscal year reveals "socialists are in charge" and that President Biden, who campaigned heavily on being a unifying candidate who would deal with members of both major parties, is not.
According to the Republican, the budget outlines an "extreme" economic, education, climate, and healthcare agenda that raises taxes and increases spending to record levels.
"The sad truth: The socialists are in charge of the White House," Cruz tweeted Thursday. "Joe Biden certainly isn't!"
The tweet echoed comments Cruz made during an interview Thursday evening with Fox News host Sean Hannity.
The host revealed more and more Americans were struggling and many have resorted to using credit cards for ordinary purchases, cashing out their retirements, and living paycheck to paycheck.
"Senator, I gave the numbers. We see the economy. We see two-thirds of people now can't make ends meet, you see people cashing in their retirement plans to make ends meet, and people for bare necessities are using credit cards. It has never been this bad, in my lifetime at least," Hannity said.
"Sean, the sad truth is the socialists are in charge of the White House," Cruz started his remarks. "Biden certainly isn't but the people he surrounded himself with have a very simple approach to everything, they want to spend money they don't have [and] they want to raise taxes on you."
He continued: "They've unleashed record inflation."
Cruz also said, "This budget that Biden put out would create a $50 trillion national debt and their view is they can just keep printing money and unleashing inflation and keep borrowing money from China. It's wildly irresponsible."
The Texas Republican said the budget prioritized funding the IRS but was notably missing appropriations to secure the U.S.-Mexico border wall. He also mentioned Sen. Elizabeth Warren, D-Mass., as one of the people steering Biden's proposal.
"You know what is not in this budget?" Cruz asked. "Funds to secure our southern border. They want to fund 87,000 IRS agents, but they don't have funds for significant numbers of new border patrol agents. They don't have funds for significant numbers of DEA [Drug Enforcement Administration] agents to stop the fentanyl crisis that led to over 100,000 overdoses that happened last year on Biden's watch."
"This is a tax and spend budget," the lawmaker said. "They've got $5.5 trillion in new taxes in this budget. That includes taxes directly on energy. So, remember all of the Democrats who said they wanted the gas prices low? They were lying."
Sen. Cruz, who previously ran for the White House, called the proposal a "political document" and said there was no chance it would clear Congress, where Republicans hold a majority in the House of Representatives.
"The chances of this budget being enacted into law are 0.0% [zero-point-zero percent]," Cruz predicted.
The lawmaker said further that the priorities in the bill are "really extreme and really dangerous."
"They tell you who they are," Cruz added, noting the budget proposal makes more references to climate, environmental justice, and transgender people, more than inflation, fentanyl, and border security.
Separately, the Committee for a Responsible Federal Budget, an economic watchdog, said it too was "disappointed" in the proposal as it would allow the deficit to grow $17 trillion over the next decade.
"The President deserves credit for putting forward $3 trillion of deficit reduction… [but] deficit reduction will ultimately need to be nearly three times that large, and it is disappointing the budget has put forward so many costly proposals without first putting the nation's fiscal house in order," the CRFB said.
CRFB President Maya MacGuineas opined the budget "does not go far enough" to eliminate record levels of spending and would result in a new record-high debt.
"The President's budget would borrow $19 trillion through 2033 and increase the debt-to-GDP ratio from 98 percent at the end of 2023 to 110 percent by 2033, past the record set in this nation just after WWII," MacGuineas said in a statement Thursday.
Please follow and like us: