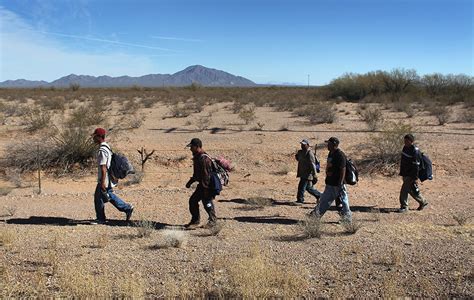 House Republicans release sweeping immigration bill
Story by Suzanne Monyak
House Republicans released sweeping immigration legislation on Monday that would tighten asylum eligibility, expand migrant family detention and crack down on the employment of undocumented workers.
The 137-page proposed bill represents the legislative response to high levels of migration on the U.S.-Mexico border from House Republicans, who have made border security a focal point of their new majority. The House Judiciary Committee is scheduled to mark up the bill Wednesday.
But the legislation may still face hurdles to make it through the House, given internal disagreement within the House Republican caucus over border security. It's also unlikely to gain traction in the Democrat-controlled Senate.
The committee action will follow previous delays on a border security measure, and the newest bill reflects some of the behind-the-scenes negotiations that have occurred over the past several weeks.
For example, the new legislation includes only some of the language from a border security bill introduced by Rep. Chip Roy, R-Texas. Last December, House Majority Leader Steve Scalise, R-La., had included Roy's bill in a list of so-called "ready-to-go" legislation that would be brought to the House floor for a vote "in the first two weeks of 2023."
But consideration of Roy's bill was bumped in January after several House Republicans raised concerns that the bill went too far to restrict asylum.
The new bill includes provisions from Roy's bill that would authorize the Homeland Security chief to block any foreign citizen from entering the U.S. if the official decides it "is necessary in order to achieve operational control over such border."
But it does not include language from Roy's bill that would also bar the government from allowing in asylum-seekers unless they can be detained or returned to Mexico.
The Judiciary Committee's latest proposal — initially discussed as eight separate bills, according to congressional aides — was set to be released last month. But House Republican leaders asked Judiciary Chairman Jim Jordan of Ohio to delay those markups until after the House's two-week April recess.
The House Homeland Security is also expected to release a counterpart border security measure. Chairman Mark E. Green of Tennessee said in March that his committee's border bill would be released in mid-April, but a spokesperson for the committee didn't immediately respond to a request for information on that committee's bill on Monday.
Speaker Kevin McCarthy of California cannot lose more than four Republican votes, assuming full attendance and no Democratic support, for bills to pass on the floor with his narrow majority.
Bill provisions
The Judiciary Committee's bill, introduced by Reps. Tom McClintock of California and Andy Biggs of Arizona, would revive several Trump-era programs to significantly limit asylum eligibility for migrants traveling to the U.S.-Mexico border.
The bill would restrict eligibility from migrants who have traveled through another country en route to the U.S., and had not first attempted to seek protection in the other country, a policy reminiscent of the Trump administration's "safe third country" agreements.
It would also require migrants to seek asylum at a designated port of entry, rather than after crossing the border at any point, and revise a standard used by asylum officers as they evaluate a migrant's initial eligibility for asylum.
The bill would also impose a $50 asylum fee for adults. The Trump administration had also attempted to impose an asylum fee, but the effort was halted in court.
The bill would further revise anti-trafficking laws to allow migrant children — who under current law, cannot be detained longer than 20 days — to be detained with their parents for the duration of their immigration court proceedings.
Republicans also want to crack down on the Biden administration's use of an authority known as parole, which allows the federal government to give migrants temporary permission to live and work in the U.S. The bill states that parole should not be granted "according to eligibility criteria describing an entire class of potential parole recipients."
Parole has provided the legal authority for programs like the Deferred Action for Childhood Arrivals program, or DACA, as well as programs to help Ukrainians fleeing Russia's invasion.
Beyond the border, the bill also takes aim at employers that hire undocumented immigrants, including by ramping up requirements for them to electronically verify that their employees have permission to work in the U.S.
Please follow and like us: