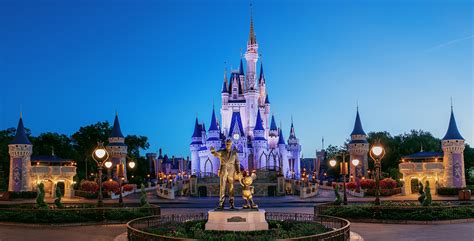 'Mickey's Freedom Restoration Act' would encourage Disney to move its parks from Florida to North Carolina
Story by Matthew Chapma
Alawmaker in North Carolina has filed legislation to lure Disney to relocate its resort complex from Florida to his own state, reported The Daily Beast on Wednesday — sending a shot at Florida Gov. Ron DeSantis.
"A legislator from the Tar Heel State has filed a measure that would allow Disney to shift its operations out of Florida, saying in a release that 'North Carolina is a great place to do business,' according to WGHP," reported A.J. MacDougall. "The bill introduced by state Sen. Michael Garrett (D), appropriately called the 'Mickey's Freedom Restoration Act,' seeks $750,000 to explore the possibility of luring Disney across state lines."
"In an apparent swipe at DeSantis, Garrett added, 'Politicians who put their state's economy at risk to boost their own selfish political ambitions are a liability,'" the report continued. "He said he would 'welcome The Walt Disney Company and all other businesses seeking refuge from the culture war madness currently gripping the great state of Florida.'"
This comes as DeSantis escalates his fight with Disney, after the company criticized the GOP's infamous "Don't Say Gay" legislation that has effectively shut down the ability to even mention sexual orientation or gender identity in Florida schools.
Following that criticism, DeSantis signed legislation allowing the state to take over the Reedy Creek Improvement District, a special taxing zone whose boardmembers have essentially let Disney run its own local government and community services over the Walt Disney World resort complex. But just as DeSantis' appointees were scheduled to take over, the outgoing board inked a deal that essentially turned over most of the special district's responsibilities to Disney directly, leaving Florida with little power over the area.
DeSantis has vowed to exact revenge, threatening to add toll roads and resort taxes into the Disney parks, and even suggested in a speech earlier this week he could build a state prison right next to the site. Former President Donald Trump, who has entered a rivalry with DeSantis himself as the governor prepares to mount a rival presidential campaign, has derided DeSantis' handling of Disney, suggesting the company stop investing in Florida.
Please follow and like us: