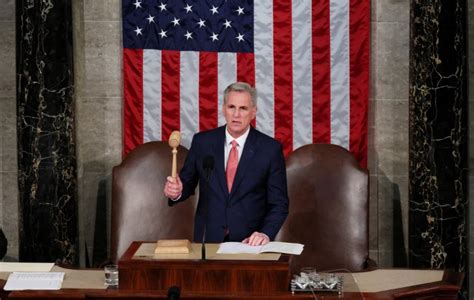 McCarthy's debt limit bill curbs domestic spending growth by 1% per year, nixes green tax credits
House Speaker Kevin McCarthy's legislation to extend the nation's debt limit for one year would return federal domestic spending to "pre-inflationary" fiscal year 2022 levels and limit its growth by 1% per year.
"These are the same levels we had just four months ago," McCarthy said on Wednesday. "I didn't hear a single Democrat complain about that level of spending.
"These spending limits are not draconian, they'e responsible. Federal spending exploded in the past two years by 17%, and that doesn't include trillions in COVID-era spending."
The 318-page legislation repeals certain clean energy tax incentives from the Democrats' Inflation Reduction Act that passed late last year, including the tax credit for previously owned clean vehicles and the tax credit for qualified commercial clean vehicles.
However, the legislation retains the new electric vehicle purchase tax credit of up to $7,500. While it retains that incentive, it changes the tax credit's formal name from the "Clean Vehicle Credit" to the "New Qualified Plug-in Electric Drive Motor Vehicle Credit."
The bill would also repeal the sustainable aviation fuel credit and the clean fuel production credit. It would eliminate the increase to the "energy credit for solar and wind facilities placed in service in connection with low-income communities."
The bill includes a provision to rescind "unobligated" COVID-19 stimulus funds and "prohibit unfair student loan giveaways," referring to President Biden's debt forgiveness program of up to $20,000, which he began implementing without congressional approval.
The student loan forgiveness section of the bill would nullify "certain executive actions and rules relating to federal student loans" and limit the authority of the secretary of education to "propose or issue regulations and executive actions."
The legislation also aims to increase domestic energy production by streamlining the oil permitting process. 
McCarthy and the House GOP leadership estimate that the legislation would save taxpayers $4.5 trillion over 10 years. The bill raises the debt ceiling by $1.5 trillion until March 31, 2024. The nation's debt is currently $31.4 trillion.
If the legislation passes in the GOP-led House, it faces an uphill battle in the Democratic-led Senate.
Both President Biden and Senate Majority Leader Chuck Schumer have expressed strong opposition to tying a debt limit increase to spending cuts.
"Amazingly, one of the few specifics [Speaker] McCarthy has presented is his terrible idea to kick the can down the road for just one year and undergo the same crisis again," Schumer said. "Why would anyone want to undergo this crisis again, again and again?" 
Please follow and like us: