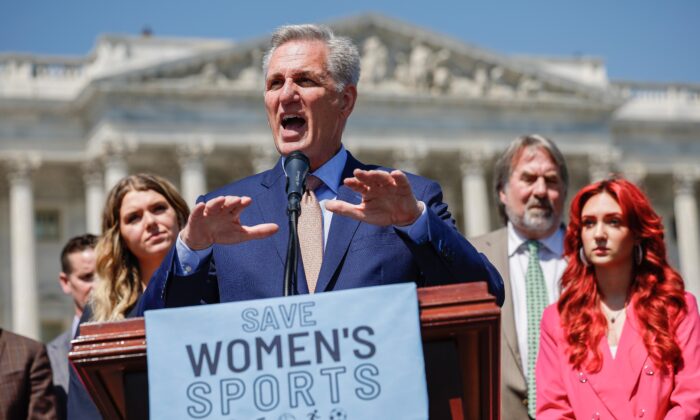 House Passes Bill Barring Transgender Athletes From Women's Sports
By Jackson Richman and Janice Hisle
The House of Representatives approved legislation on April 20 that would prohibit taxpayer-funded institutions from allowing transgender athletes to compete in women's and girls' sports in schools.
The vote tally fell along party lines, 219–203.
The Protection of Women and Girls in Sports Act, H.R. 734, introduced by Rep. Greg Steube (R-Fla.), would amend Title IX to recognize sex as "based solely on a person's reproductive biology and genetics at birth."
Title IX protects against sex discrimination in education.
The bill states, "It shall be a violation for a recipient of federal financial assistance who operates, sponsors, or facilitates athletic programs or activities to permit a person whose sex is male to participate in an athletic program or activity that is designated for women or girls."
Steube, on the House floor, said his bill is meant to ensure fairness in women's sports.
"Congress in 1972 created Title IX to protect women's sports, to enable women to have an equal playing field in athletics, and in worship to their trans idols, the [Biden] administration wants to flip that on its head. It's insane," he said.
"Parents do not want biological men in locker rooms with their daughters, nor do they believe it's equitable a male can compete with women in female athletics."
Some Democrats, however, described the measure as an attempt at bullying transgender students.
"This bill is about bullying children,"' Rep. Greg Landsman (D-Ohio) said on the House floor. "Stop bullying children."
"House Republicans are choosing to bully and belittle trans children," Rep. Robert Garcia (D-Calif.) said. "This is about attacking a small group of children, and it is shameful."
The measure comes as the Biden administration has proposed a regulation that would largely prohibit bans on transgender sports participation.
Bill Unlikely to Move Forward
While the bill passed the GOP-controlled House, it's likely dead on arrival in the Senate. Even if the Democrat-controlled Senate were to take it up and pass it, the White House has said that President Joe Biden would veto it.
In a Statement of Administration Policy, the White House claimed that the bill "would deny access to sports for many families by establishing an absolute ban on transgender students—even those as young as elementary schoolers—playing on a team consistent with their gender identity."
The White House called the proposed legislation "discriminatory."
"Politicians should not dictate a one-size-fits-all requirement that forces coaches to remove kids from their teams. At a time when transgender youth already face a nationwide mental health crisis, with half of transgender youth in a recent survey saying they have seriously considered suicide, a national law that further stigmatizes these children is completely unnecessary, hurts families and students, and would only put students at greater risk," the White House stated.
"Discrimination has no place in our nation's schools or on our playing fields."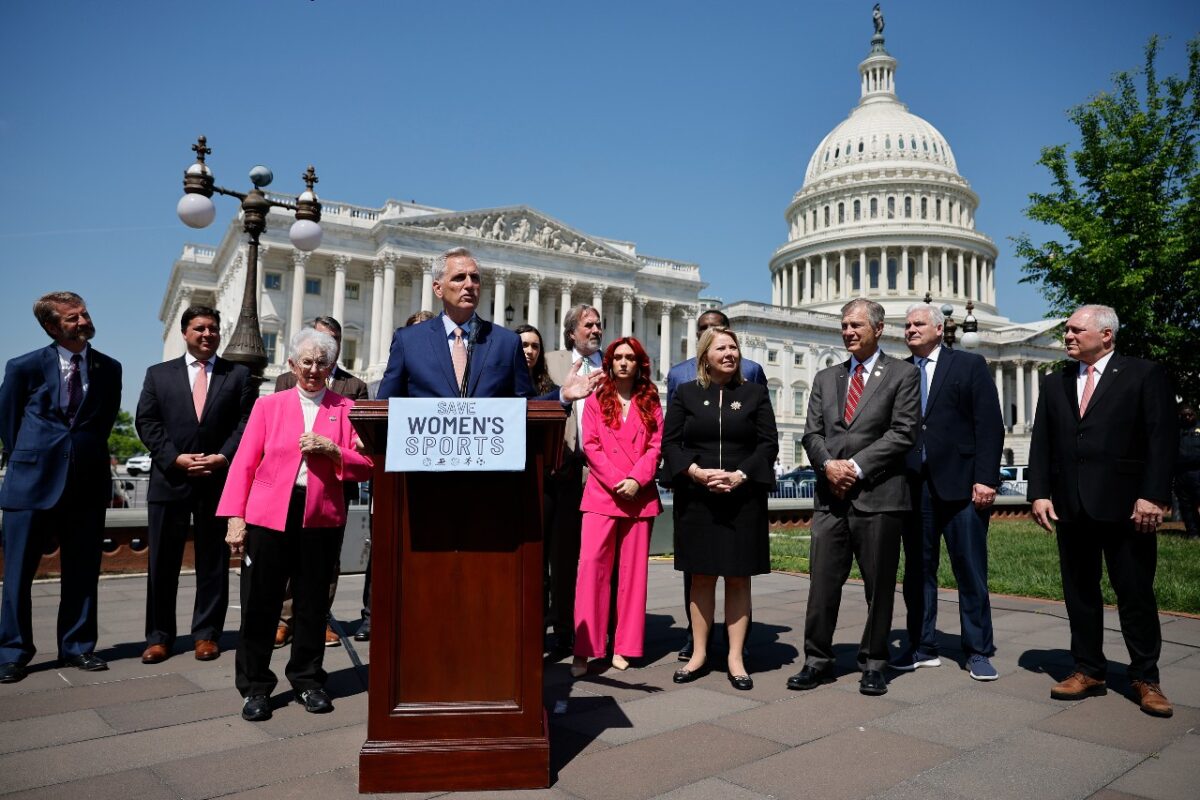 GOP, Female Athletes Vow to Keep Fighting
In a news conference after the bill passed, top Republicans said it was sad that not a single Democrat supported the "common sense" measure.
House Majority Leader Steve Scalise (R-La.) said, "This should have been a unanimous vote."
It undermines the intention of Title IX "when you say a biological man can just play in a women's sport if they choose to," Scalise said. "That just flies in the face of common sense."
As GOP leaders and female athletes spoke to reporters on a sunny day outside the U.S. Capitol, the mood was celebratory despite the bill's gloomy prospects. The group vowed to continue fighting to protect women's sports.
Rep. Tom Emmer (R-Minn.), House majority whip, called the threatened Biden veto "a slap in the face to women's rights, science, and common sense."
He said that the House Republicans would fight to make sure "female athletes are given the fairness, safety, and opportunities they deserve."
"And we're not going to stop."
Rep. Virginia Foxx (R-N.C.), GOP chairwoman, said that she recalls when the landmark Title IX was enacted more than a half-century ago. In recent years, that law has been used in a manner that contradicts its intent, she said.
She called the just-approved bill "historic" and urged Biden to "forget about vetoing it." Not vetoing it would be a first step toward "returning to the promise of 1972."
Losing Out
Smiling broadly, college volleyball player Macy Petty said, "It is an absolute honor to stand here today and celebrate with y'all." She described a sense of outrage and frustration about being forced to compete against a male in her sport—and being denied opportunities as a result.
Men's volleyball nets are positioned seven inches higher than women's volleyball nets, and when males are allowed to switch to the women's teams, the lower nets give them an unfair advantage, Petty said.
"Suddenly, mediocre athletes can hit like All-Americans, and that's exactly what happened. These college recruiters were trying to evaluate my skills and see if I'd be a good fit for their team … but instead they watched this boy slam the ball in our face time and time again," Petty said.
Selina Soule, a Connecticut track athlete who was one of the first females to speak out against transgender competitors participating in women's sports, said, "I raced against these athletes over a dozen times, and they would beat me out by 20 meters in the 100-meter-dash every single time without fail.
"I lost out on countless opportunities.
"I am eternally grateful to the House Republicans for passing this bill to ensure that no other girl has experienced the pain and heartbreak that I went through … and I will be grateful to them for the rest of my life. And I will continue to fight for this issue for as long as it takes."
Taylor Silverman, a skateboarder, said that seeing other young women such as Soule come forward gave her the courage to speak out too.
"When I was a child growing up playing sports in school, I never had to worry about this … unfortunately, fairness was robbed from me as an adult," she said.
" I refuse to be the last generation of girls to experience equal opportunity, respect, fairness, and even safety in many sports. And, finally, I'm happy to say we are headed back in the right direction."
House Speaker Kevin McCarthy (R-Calif.) commended the female athletes who have become advocates for others.
"These women did something courageous: They spoke out. They spoke out for equal opportunity for privacy, for safety, for truth, for everything the previous generations of women [did in their fight for Title IX].
"They are the current champions of those women 50 years ago, who fought for equality, who fought for fairness in sports.
"When the left tries to silence them, to intimidate them, they will not be intimidated. Not for themselves, but just like the women 50 years ago, they're going to stand for fairness. They're going to stand for the next generation, and they're going to stand for what is exactly right."
Biden has vowed to veto the measure.
Please follow and like us: