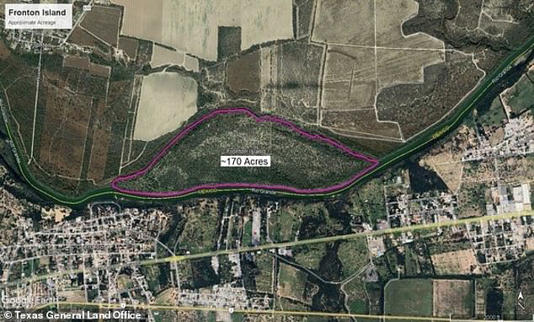 Texas reclaims three islands in the Rio Grande to stem flow of migrants crossing border – increasing size of Lone Star State by 215 acres
Story by Mackenzie Tatananni 
Texas has absorbed 215 acres of land in the Rio Grande in an attempt to stop migrants and gang members from creeping over the border.
The Texas General Land Office announced in April that state troopers could clear out two islands near Eagle Pass.
Five months later, Land Commissioner Dawn Buckingham added another in Fronton as part of Operation Flat Top.
Texas pointed to old maps to claim the islands had always been part of the Lone Star State.
Fronton Island is the largest, measuring about 170 acres. Once full of lush greenery, it has been stripped to dirt and lined with barbed wire in the past week.
'Fronton Island, known as the single most dangerous spot on the southern border, is cleared to patrol,' Buckingham tweeted on November 1.
'Our Texas law enforcement is working day and night to protect our state and its people from the hazardous effects of mass illegal immigration.' 
Lieutenant Chris Olivarez told News 4 San Antonio that the reclaimed islands were mostly used for illegal border crossings.
'We see the influx of illegal immigrants coming across, they would use those pieces of land as a refuge,' he said.
Not just Mexican migrants, either. Data from the Department of Homeland Security showed that thousands of Chinese migrants illegally crossed the Rio Grande, by way of Mexico, in 2023.
The request for Texas to seize the islands had been in place for almost a decade. Once the border is secure, the state is expected to re-evaluate what the islands are used for.
'Once it's completely cleared, we will we will man that area 24/7,' Olivarez said.
While some locals have expressed concern that the state's efforts may provoke Mexican cartels, Olivarez insisted that the move is necessary for safety.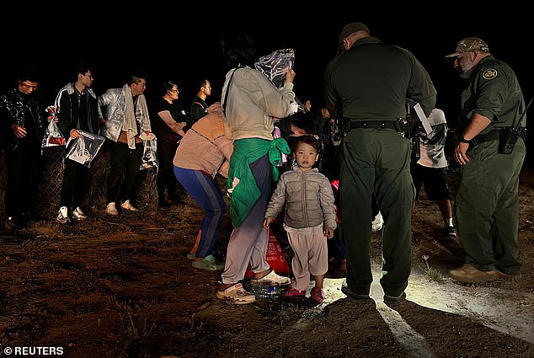 'What we're trying to do is also locate other pieces of land, in Eagle Pass, along the border, that we can try to help deny or try to prevent some of that activity is taking place right now,' he said.
Now that the islands are declared as Texas land, the state is looking into criminal trespassing charges for people who use them to cross into the U.S. illegally.
A map from the U.S. International Boundary and Water Commission shows Fronton Island on the U.S. side of the boundary.
However, the agency says it is still confirming ownership of the islands.
Fronton Island, in particular, has long been regarded as a hotspot for conflict.
It is where rivals from the Gulf Cartel and Cartel del Noreste have regularly traded bullets as they fight for control of the area.
'We've encountered armed gunmen, cartel members that have come across on Fronton,' Olivarez said.
Just last week, suspected cartel members were spotted patrolling a stretch near the island, just yards away from Texas towns.
Drone footage captured at least 10 men walking through a wooded area on the Mexican side of the border, with some pointing guns as they inspected the area.
Read More From: For A Free America
This is nothing new – in August, trail cameras captured three gunmen, clad in body armor and equipped with rifles, crossing into Fronton.
Months earlier, five alleged Cartel Del Noreste members were arrested in the same area. They, too, were armed and dressed in tactical gear.
Please follow and like us: