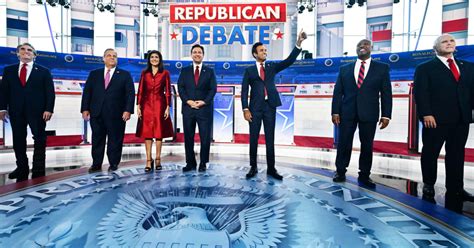 NBC Exposed Itself With Overzealous 'Fact-Checks' of GOP Candidates
Opinion by Isaac Schorr 
NBC News entrusted a fact-checking team with reviewing the assertions of Republican candidates at the primary debate hosted by the network on Wednesday night.
It did not go well.
As a journalistic genre, fact-checking works best when it is focused on evaluating falsifiable statements. Under those circumstances, it is a valuable service. Outright falsehoods should be corrected and context is often integral to understanding a given issue. But all too often, we see fact-checkers deploy selective arguments about "context" as an ideological cudgel — thereby becoming a source of misinformation rather than a means of combatting it.
NBC fell hopelessly into these well-trod traps.
In one particularly egregious instance, its executive editor of investigation Peter Klein attempted to downplay Florida Governor Ron DeSantis's efforts to evacuate Americans from Israel last month.
"I sent planes over to Israel and I brough back over 700 people to safety," declared DeSantis on the debate stage.
Not so fast, shot back Klein.
"This is half true," he argued. "DeSantis signed an executive order that allowed the Florida Division of Emergency Management to pay for Americans in Israel to fly back to the U.S. But the flights were organized by a nonprofit, and DeSantis' primary role was to fund the flights."
One gets the impression that Klein would have only given his elusive approval to the statement had DeSantis personally flown aircraft to and from Israel.
Senior reporter Jane Timm ran into a similar problem when she called Senator Tim Scott's (R-SC) promise to prevent abortions from occurring "up until the day of birth," because "the vast majority of abortions occur in the first trimester."
That much is true, the vast majority of abortions do occur well before the third trimester. But Timm is fact-checking a claim Scott didn't make. He never said a high proportion of abortions were late-term abortions, only that he would take action to prevent those that do occur. Moreover, even at a low proportion, the number of late-term abortions in the United States rivals the number of gun homicides!
Scott was the victim of another erroneous correction at the hands of Klein, who did not take well to him professing to "believe that we have sleeper terrorist cells in America" because "thousands of people have come from Yemen, Iran, Syria, and Iraq."
Klein replied to Scott by writing that "this is likely false."
"While Scott said he 'believes' there are sleeper cells, he did not cite any evidence and there is scant proof of any such sleeper cells," he continued.
On September 10, 2001 there was "scant evidence" that a paradigm-shattering terrorist attack would occur on U.S. soil; that didn't render those warning about the desire of some to execute such an attack eligible for a tsk-tsking fact-check.
It is telling that Klein opted to try to disprove Scott's unfalsifiable belief rather than his factual claim over the surge of Middle Eastern migrants who have shown up at the southern border in recent years.
Klein stayed away from tangling over the latter because over because well over a thousand migrants from those countries have been caught while attempting to cross the border over just the past two years, while tens of thousands more have arrived from neighboring countries. That's to say nothing of the well over 1.5 million migrants who were seen by, but successfully avoided capture by border authorities since President Joe Biden took the oath of office.
Read More From: For A Free America
NBC's effort to hold the candidates accountable to the truth did what so many fact-checks do in this landscape: Provide as much insight into how the media's biases distort its product as they do their subjects' deceptions.
The post NBC Exposed Itself With Overzealous 'Fact-Checks' of GOP Candidates first appeared on Mediaite
Please follow and like us: