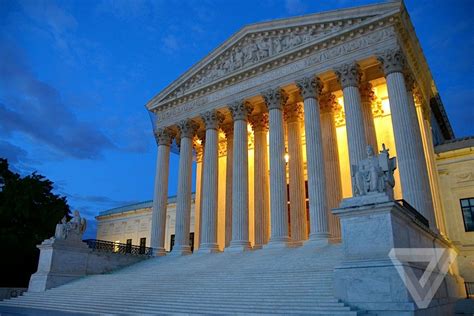 4 Supreme Court Cases That Could Curb the Administrative State
The Supreme Court is reviewing the administrative state's power with several cases this term that could make major changes to the way agencies regulate.
The U.S. Supreme Court has taken up several cases this term that pose challenges to the administrative state, following years of concerted legal and political opposition to its legitimacy.
Specifically, the justices are set to reevaluate the decades-old doctrine known as Chevron deference. This involves the case Chevron v. Natural Resources Defense Council, which has been cited more than 18,000 times by federal courts and is "unquestionably one of the foundational decisions in administrative law," according to the Congressional Research Service.
The 1984 precedent held that courts generally should defer to agencies' interpretations of ambiguous language in congressional statutes.
For this term, the court is reviewing, in two related cases, whether the Commerce Department adhered to Congress's instructions when it required commercial fishing companies to pay for federal observers monitoring their activity on vessels. Several businesses in the industry have sued, arguing that Congress didn't authorize that requirement in the Magnuson-Stevens Fishery Conservation and Management Act.
The government counters that the requirement is a reasonable way to apply the statute. The cases are Loper Bright Enterprises v. Raimondo and Relentless Inc. v. Department of Commerce. Oral arguments are scheduled for Jan. 17.
Two other cases—Consumer Financial Protection Bureau (CFPB) v. Community Financial Services Association of America (CFSA) and Securities and Exchange Commission v. Jarkesy—take a look at how agencies may adjudicate disputes in administrative courts and whether they can appropriate or allocate funds in a way many argue should be left to Congress. Instead of reevaluating longstanding judicial doctrine, the cases examine specific actions by Congress and the executive branch in light of constitutional restrictions.
The CFPB case, for example, questions whether Congress violated the appropriations clause of the U.S. Constitution when it allowed the agency to determine its own funding levels while drawing money from the semiautonomous Federal Reserve. The Jarkesy case asks whether the SEC's administrative courts violate the Seventh Amendment by not impaneling a jury.
Renewed Opposition to Executive Power
This term's slate of cases is historically "significant," George Washington University law professor Richard Pierce, who has written more than 20 books on administrative law, told The Epoch Times.
Advocates such as Mr. Pierce defend administrative authority and Chevron as well-founded in U.S. history. Only recently has there been such a concerted effort to undermine its foundations, he said.
"There's an all-out attack on the administrative state from a bunch of right-wing lawyers, and the court has given some signals that are kind of encouraging of such an attack," he said.
It's difficult to trace exactly how opposition to the administrative state intensified over the past decade, but Mr. Pierce and others have suggested that opposition may have partially been a response to the policies of President Barack Obama.
Entering office amid the Great Recession, President Obama advocated large-scale interventions that earned him a comparison to former President Franklin Delano Roosevelt by Time Magazine. After his victory in November 2008, the magazine's front cover showed him alongside the words "The New New Deal."
Data from the George Washington University Regulatory Studies Center indicate that although recent administrations have generally increased the number of administrative rules, President Obama's administration saw the largest cumulative number of economically significant rules of any administration since President Ronald Reagan's.
Quoting a 1993 executive order, the center defines economically significant rules as those likely to "have an annual effect on the economy of $100 million or more or adversely affect in a material way the economy, a sector of the economy, productivity, competition, jobs, the environment, public health or safety, or state, local, or tribal governments or communities."
Read More From: For A Free America
President Donald Trump oversaw the largest number of final major rules—which also include deregulatory efforts—published in a single year (2020).
Please follow and like us: