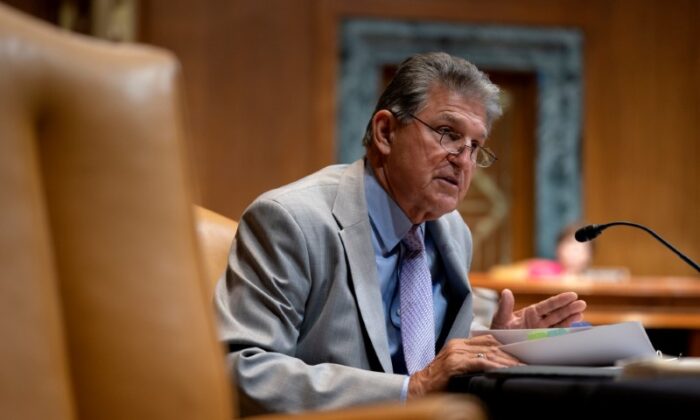 Manchin Calls On Biden to Ramp Up Domestic Production, Cut Ties With Russian Oil
By Joseph Lord
The US is currently buying around 500,000 barrels of Russian oil per day.
Sen. Joe Manchin (D-W. Va.) called on President Joe Biden to relax rules against U.S. oil production which have left the nation heavily dependent on Middle Eastern and Russian oil. Even after the invasion of Ukraine, which the president has condemned, the United States has continued to buy around 500,000 barrels of Russian oil per day.
"The entire world is watching as [Russian President] Vladimir Putin uses energy as a weapon in an attempt to extort and coerce our European allies," Manchin said in a statement. "While Americans decry what is happening in Ukraine, the United States continues to allow the import of more than half a million barrels per day of crude oil and other petroleum products from Russia during this time of war. This makes no sense at all and represents a clear and present danger to our nation's energy security."
Manchin continued, "The United States can and must ramp up domestic energy production and increase access to our abundant resources and technologies to both protect our energy independence and support our allies around the globe."
"If there was ever a time to be energy independent, it is now," Manchin added, accusing Biden of being "hypocritical" for continuing to allow the importation of Russian oil. "To continue to rely on Russian energy as they attack Ukraine is senseless."
Manchin concluded, "In the coming days and weeks, the strategic value of American energy and what can be done to better position our nation on the global stage will be an ongoing topic in the Senate Energy and Natural Resources Committee."
Upon taking office Biden, citing the so-called "climate crisis," signed a series of executive orders ending or reversing Trump-era policies.
Most prominently, Biden placed a moratorium on leasing federal lands to oil and natural gas producers. He also paused construction of the Keystone XL pipeline, which has been a controversial issue since President Barack Obama's time in the Oval Office.
These policies, however, have made the United States again dependent on the Organization of Petroleum Exporting Countries (OPEC) and Russian oil. Even as the United States has roundly condemned Russia's invasion of Ukraine, oil from the nation has continued to pour into the United States.
Republicans, both before and after the invasion of Ukraine, have persistently called on Biden to reverse these "anti-American energy policies" and to restore President Donald Trump's energy policies, which increased U.S. oil production dramatically and rendered it energy-independent for the first time in decades.
Though many Democrats have fallen into line with the White House on energy and climate policy Manchin, who has often broken with his party during the 117th Congress, has for some time expressed skepticism toward his party over the issue.
In November, Manchin called for Biden to restart construction on the Keystone XL pipeline after the White House announced that it would pull from the Strategic Petroleum Reserve to taper down skyrocketing gas prices. Earlier the same month, Manchin announced his opposition to a scheme in the now-defunct Build Back Better spending package to give tax benefits to specific manufacturers of electric vehicles.
Manchin has also rejected calls from within his party to kill the coal industry, which would be disastrous for his constituents in West Virginia. In the coal-rich, cash-poor state, citizens are dependent on the industry for around 90 percent of their energy. Coal mining is also a major employer in the state, whose residents are among the poorest in the nation.
Because Biden has unilateral control over much of the United States' energy policy, the White House would be able to significantly ramp up domestic oil production through a handful of executive orders.
Though the United States and its western allies have imposed tough sanctions on Russia, cutting several of its largest banks out of the SWIFT financial system, the nation remains as dependent on Russian oil as it was before the invasion of Ukraine.
If Biden heeds Manchin's call to make changes to his energy policies, it is likely that the move will be praised by the GOP but will face heavy scrutiny from progressive Democrats and environmentalist groups.
In November, as gas prices were rising rapidly, Biden quietly subverted his earlier moratorium, leasing around 80 million acres of land in the Gulf of Mexico to oil producers. The move, which still left the United States almost entirely dependent on OPEC and Russia, was criticized by the environmentalist Center for Biological Diversity and other environmental alarmist groups.
"President Biden can't claim to be addressing the climate emergency or caring about environmental justice if he continues to treat the Gulf of Mexico and coastal communities as sacrifice zones," said Kristen Monsell, a legal director for the group, calling for Biden to reverse the lease.
Canada—which is the world's fifth-largest oil producer despite Prime Minister Justin Trudeau's nominal opposition to fossil fuels—has already banned the importation of Russian oil.
In an interview with ABC News, White House press secretary Jen Psaki said that boosting domestic oil production through ending the oil lease moratorium and restarting the Keystone pipeline is a "misdiagnosis."
"I would also note that, on oil leases, what this actually justifies, in President Biden's view, is the fact that we need to reduce our dependence on foreign oil, on oil in general, and need to look at other ways of having energy in our country and others," Psaki argued.
She said that energy sanctions against Russia "remain on the table."
Read More From ForAFreeAmerica
There has been as yet no indication that Biden will put such sanctions in place or radically change course in his attitude toward domestic energy policy, but Manchin's statement indicates that there is at least some bipartisan support for the move.
Please follow and like us: