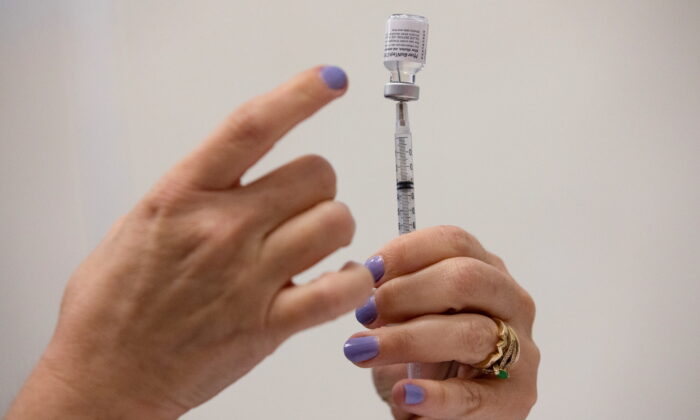 Increased Risk of Serious Eye Problem After COVID-19 Vaccination
People who received a COVID-19 vaccine have an increased risk of a serious eye problem, according to a new study.
The risk of retinal vascular occlusion "increased significantly" after a first or second dose of the messenger RNA (mRNA) COVID-19 vaccines, researchers reported in a study published by Nature.
The Pfizer and Moderna COVID-19 vaccines both use mRNA technology.
Retinal vascular occlusion refers to the blockage of veins or vessels that carry blood to or from the retina. It can cause sudden vision loss.
Out of 207,626 Pfizer vaccine doses administered in the population that was studied, 226 cases of the eye problem were detected after two years. Among 97,918 Moderna vaccine doses administered, 220 cases were detected over the same time.
While some cases were detected among AstraZeneca recipients, the risk wasn't statistically significant.
The risk of retinal vascular occlusion was 3.5 times for vaccinated people compared to an unvaccinated group after 12 weeks and 2.19 times higher after two years. An increased risk was found shortly after vaccination.
"We demonstrated a higher risk and incidence rate of retinal vascular occlusion following COVID-19 vaccination, after adjusting for potential confounding factors," Chun-Ju Lin, an eye doctor, and other Taiwanese researchers reported in the study.
Patients on medications that could alter blood osmolarity should be especially aware of the risks identified in the study, although further research is needed to figure out whether COVID-19 vaccines actually cause the eye problem, the researchers said.
They drew data from TriNetX, a global network, and adjusted the results with a model that included excluding people with a history of retinal vascular occlusion.
Limitations include not confirming the accuracy of diagnoses listed in the system.
Lin, Pfizer, and Moderna didn't respond to requests for comment.
Other Studies
A study published in April in the Journal of the American Medical Association looked at the onset of retinal vascular occlusion after Pfizer and Moderna COVID-19 vaccination and found the risk didn't significantly differ from the risk following influenza and Tdap vaccinations.
Ian Dorney and the other Ohio researchers said the results suggested that mRNA COVID-19 vaccination "occurs extremely rarely at rates similar to those of 2 different historically used vaccinations."
The researchers also drew data from the TriNetX network but only looked at diagnoses within 21 days of vaccination and didn't compare with an unvaccinated group.
Dr. Lee Jampol of Northwestern University and Maureen Maguire of the University of Pennsylvania said in an editorial that the results showed "no red flags" for retinal vascular occlusion after receipt of a Pfizer or Moderna shot.
Jampol told The Epoch Times he was going to read the new study closely to examine how the analysis was performed but noted there were differences in the populations studied, with the Taiwanese researchers looking at worldwide data and the Ohio researchers looking at U.S. data only.
Another study, conducted by Italian researchers and published in February by Nature, found no increased risk between retinal vein occlusion and COVID-19 vaccination. Retinal vein occlusion and retinal artery occlusion are two types of retinal vascular occlusion.
Some other studies, though, have found eye problems after vaccination, including a systemic review published by Vaccines in 2022 that indicated, according to the authors, a plausible link between the vaccines and the symptoms.
CDC Detects Safety Signal
U.S. authorities detected eye problems as a safety signal for the mRNA COVID-19 vaccines in 2022.
U.S. Centers for Disease Control and Prevention (CDC) analysts, crunching reports lodged with the Vaccine Adverse Event Reporting System, found both retinal artery occlusion and retinal vein occlusion met the criteria for safety signals for the Pfizer and Moderna vaccines, when compared for the first time to reports lodged after vaccination with any other vaccine.
Hundreds of other signals also were detected, according to files obtained by The Epoch Times.
CDC officials have said the results of the monitoring "were generally consistent" with those from analyses the U.S. Food and Drug Administration (FDA) conducted, "revealing no additional unexpected safety signals." Officials haven't explained why they expected so many signals, and the FDA has refused to release the results of their analyses.
That refusal prompted a lawsuit in Washington, which said the FDA was violating federal law by withholding the data.
Please follow and like us: