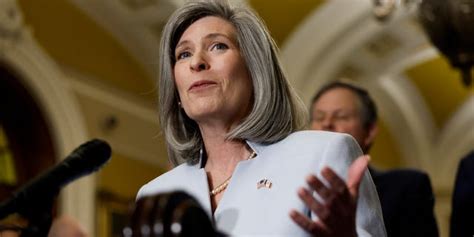 IRS banned from buying guns, ammo with taxpayer funds under new bill from Sen. Ernst
Story by Andrew Miller 
Iowa Republican Sen. Joni Ernst is introducing a bill on Tuesday that would prohibit the Internal Revenue Service from arming its agents with taxpayer money.
The bill, known as the "Why Does the IRS Have Guns Act," would prohibit the IRS from buying, receiving or storing guns and ammo. All guns and ammo currently in their possession would be transferred to the General Services Administration to be auctioned off to federal firearms license owners to support federal deficit reduction.
Additionally, the IRS Criminal Investigation Division within the Justice Department would be relocated.
"The taxman is fully loaded at the expense of the taxpayer," Ernst said in a press release Tuesday.
"As the Biden administration has worked to expand the size of the IRS, any further weaponization of this federal agency against hardworking Americans and small businesses is a grave concern," she said. "I'm working to disarm the IRS and return these dollars to address reckless spending in Washington."
The IRS reportedly spent $10 million on "weaponry and gear," including rifles and tactical shotguns, since the start of the coronavirus pandemic. Those purchases included $2.3 million on ammunition, $1.2 million on ballistic shields, $474,000 on Smith & Wesson rifles, $463,000 on Baretta1301 tactical shotguns and $243,000 on body armor vests.
Ernst's press release said the agency has spent $35.2 million in taxpayer dollars on guns, ammunition and military-style equipment since 2006.
According to a job posting on its website earlier this year, the IRS is looking to hire gun-carrying special agents in all 50 states.
The Inflation Reduction Act signed by President Biden last year gave the IRS $80 billion in funding for the agency to boost staff over the next decade in a move Republicans argued was intended to target small businesses and families.
The IRS and White House did not immediately respond to a request for comment from Fox News Digital.
Please follow and like us: