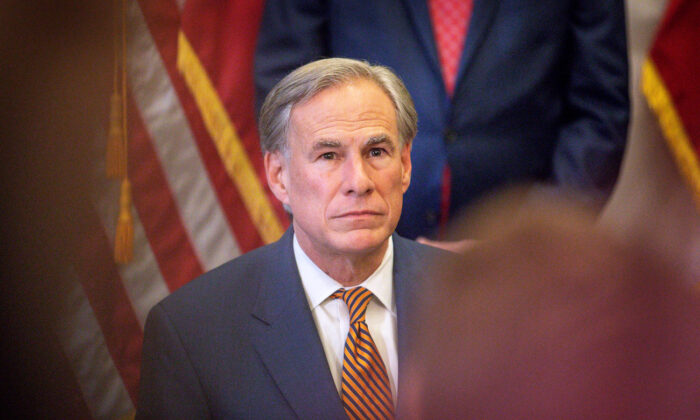 Texas Gov. Greg Abbott signs four parental rights bills: 'Our schools are for education, not indoctrination'
Story by Joshua Nelson
Texas Gov. Greg Abbott on Tuesday signed four bills to "empower" parents.
"Our schools are for education, NOT indoctrination," Abbott said in a tweet.
"Parents deserve access to curriculum, school libraries, and what their children are taught. Today, I signed four bills to deliver on that promise. A great start, but there is more work to be done."
Joining Abbott at the bill signing ceremony were Texas lawmakers, parents, and other "parent empowerment advocates."
Among the four bills he signed, two address sexually explicit books, which allude to the current national conversation about book bans. Many school boards, especially in states governed by Republicans, have implemented measures to filter books that are deemed inappropriate. 
House Bill 900 prohibits the use of "harmful" books and library content that contain sexually explicit, pervasively vulgar, or educationally unsuitable material.
To double down on the crackdown on books, Abbott signed another bill, House Bill 1605, that enables parents to access and review instructional materials. Furthermore, school districts are required to provide teachers with instructional materials so that the teachers do not have to do the task themselves.
The other bill, House Bill 1926, seeks to "empower parents of students with special needs," per the governor's statement. Lastly, the fourth bill gives parents the option to determine whether their child should repeat a grade level, as opposed to "school administrators."
American Federation For Children Senior Fellow Corey DeAngelis reacted to the legislation, stating the "package of bills is a great step in the right direction towards securing parental rights in education." 
"To truly empower parents, however, the Texas legislature must pass universal school choice during an upcoming special session on education freedom. The only way to truly hold schools accountable is to allow all families to vote with their feet," DeAngelis said.
He added, "School choice is a Republican Party platform issue and 88% of Texas Republican primary voters support school choice."
The signing of the four bills underscores the phenomenon of parents across the country paying closer attention to school boards by challenging progressive curricula and contesting books they deem inappropriate. 
Please follow and like us: