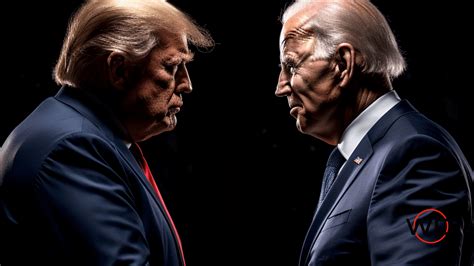 Democrats Urged To Reconsider Joe Biden After New Poll
Story by Shay Bottomley
Anew poll over the weekend found Donald Trump beating President Joe Biden in four crucial swing states, raising questions about whether the Democrats should stick with the incumbent, or push an alternative candidate.
The Telegraph/Redfield & Wilton Strategies poll found the Republican frontrunner beating the President in Arizona, Georgia, North Carolina and Florida – states he won on his way to the White House in 2016. In addition, Trump trailed Biden by a singular point in Pennsylvania, and was tied in the Democrat-leaning state of Michigan.
Voters found Trump to be in better physical and mental health, while also expressing a belief that he "is a strong leader", "will be tough on China", "can get the economy going again" and "understands the problems afflicting America". Biden led Trump on two qualities, that he "cares about people like me" and "is willing to work with the other party where possible", while all but one state deemed him the more honest of the two likely candidates.
Nevertheless, the poll marks troubling reading for the Biden campaign just over a year before the presidential election.
Joe Biden Alternatives May Help
A rematch of 2020 will not be a popular election. Trump's credibility is a deterrent for moderates and independents, while the 80-year-old Biden is deemed too old for the presidency by a majority of Americans.
"Democrats need to think hard about whether to stick with Biden as their candidate. Our polling shows that they cannot expect a rerun of 2020 to have the same result," said Philip van Scheltinga, director of research at Redfield & Wilton Strategies.
"If they run the same strategy as they did in 2020 – counting on voters' distaste for Trump – they will lose.
"2016 and 2020 were close. In both elections, it came down to 100,000 votes across three different states. Our polling suggests this election may be even closer, with Trump winning two states he had lost in 2020 (and won in 2016) and the remaining two states too close to say which way they would go," van Scheltinga added.
Kennedy May Not
Last week, Robert F. Kennedy Jr. abandoned his campaign for the Democrat ticket, announcing an independent run with the slogan "declare your independence". He's already pledged to "spoil" the election for the likely Democrat and Republican nominees.
Read More From: For A Free America
As part of the poll conducted from October 7-9, voters were asked how they'd vote if RFK Jr. was included on the ballot. While he wouldn't amass a large enough share of the vote to challenge for the presidency, scoring just below 10 in most states, Kennedy Jr.'s presence would lead to a Trump win over Biden in five of the six swing states, with a tie in Pennsylvania.
Please follow and like us: